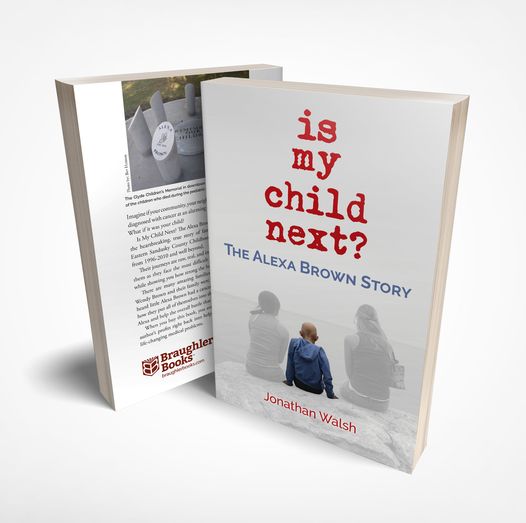 Jonathan Walsh - I've been waiting a long time to write this. Today, my first book is ready for release. But truly, it's not my book. It belongs to all the families and communities who have walked through the battle that is Childhood Cancer. It's specifically held by those who've personally experienced the Eastern Sandusky County Childhood Cancer Cluster.
I remember the day at WTOL in Toledo when I was handed a tiny newspaper article about 8-9 pediatric cancer cases coming to light in and around Clyde, OH. From that day on, a passion project began. Our station was committed to showing what Childhood Cancer really looks like. Families were brave. They were scared. They shared their stories, their fight, and their nightmares.
I along with all of our viewers were inspired by their strength. Communities came together and helped each other through their love, support, and fundraising. All of it in an effort to make a difference in the lives of people who they knew and all others battling pediatric cancer across the county.
This book adds to that fight. It adds to the fuel that helps spread the word about the impact of this disease and the need for more to be done to protect our children.
Every single penny I make will be sent to Alexa's Butterflies of Hope. It's in honor of Alexa Brown and her heartening and heartbreaking struggle. She and her family are so special. Alexa's Butterflies of Hope helps families going through life-changing medical diagnoses.
Let's all support those in need. You make a tremendous difference with your generosity. You can purchase Is My Child Next? The Alexa Brown Story from publisher Braughler Books at https://store.braughlerbooks.com/books/Alexabrown/ or Amazon, Barnes & Noble, and wherever books are sold.
I thank you and the thousands of children diagnosed with cancer every year in our country thank you, too.
Alexa's Butterflies of Hope Purpose Statement:
Alexa's Butterflies of Hope was formed in memory of Alexa Brown as a charitable foundation whose purpose was to benefit primarily Clyde area families affected by childhood cancers and other life-altering illnesses and conditions. We have helped families outside of the Clyde area because our Clyde Cancer Cluster then had became the Eastern Sandusky Cancer Cluster. We still support these families.
Between the years of 1996 and 2006 at least 36 children were diagnosed in the 12 mile wide circle of Clyde, Ohio. Since 2006, additional children have been diagnosed each year. In 2017 we began to expand our giving to include helping children with life altering condtions. 2022 marks 13 years for Alexa's Butterflies of Hope. We primarily provide financial assistance to families in Sandusky County and surrounding counties as well. We have helped 59 children thus far (multiple times to many), giving away approximately $60,000.
We are very grateful to live in such a generous and supportive community!